Top Brands Include Disabled Representation
How Top Brands Are Including Disabled Representation in Their Marketing Campaigns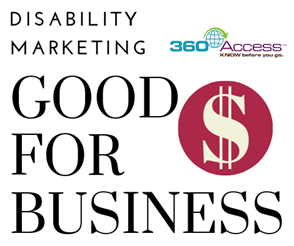 In an era where acts of corporate good are a growing priority for civic-minded consumers, companies are pushing themselves to find new and improved methods of providing better service to underserved and underrepresented communities. Through inclusive marketing strategies, brands have demonstrated their ability to make a positive impact in the world—especially for the communities targeted by these campaigns.
Additionally, by increasing their focus on diversity and inclusivity efforts, modern businesses are able to better develop their brand missions. The best part? When one major brand ups its investment in these arenas, it pushes their competition to do the same: A domino-effect of good, led by corporations consumers follow and trust.
These efforts at inclusivity in marketing seem to come in waves: When one underserved community starts to get a lot of attention, it prompts companies to develop better practices, products, and marketing strategies to effectively reach these audiences. One such wave that's showing up across a range of consumer verticals is a focus on providing better products, services, and experiences for disabled consumers.
To this point, the representation and inclusivity of disabled consumers is painfully out of proportion with the size of this consumer group in the United States. According to the American Institutes for Research (AIR), 22 million adults make up the working-age disabled population in the U.S., accounting for roughly half a trillion dollars in disposable income—a figure that's on par with the disposable incomes of America's African-American and Hispanic populations. This huge spending force is one that brands can't afford to ignore, yet, there's historically been a lack of visibility for disabled Americans in the media and in brand marketing, too.
But before brands go overhauling their strategies to include disabled representation in advertising, there's one critical aspect to consider: The products, services, and experiences targeting disabled consumers should not be limited in their relevance to disabled consumers alone. As AIR notes, friends and family members of disabled people, as well as workplaces and venues that are disability-friendly, all have a vested interest in solutions that improve the quality of life, living and working conditions, and entertainment experiences of the people they care about and employ.
Here's a look at some of the ways brands are addressing this area of need—without singling out the disabled community.
Tailoring Fashion Trends to Disabled Consumers
Physical limitations can sometimes narrow the fashion options available to disabled consumers. But as Fashion United reports, many fashion brands such as Tommy Hilfiger to ASOS are modifying their current lines to offer more functional attire that serves a broad range of disabilities.
ASOS has drawn rave reviews for its tie-dye jumpsuit that accommodates the particular needs of wheelchair users. The jumpsuit is waterproof, which is important for wheelchair-bound users who can't tuck under an umbrella as easily as other consumers. The jumpsuit also features adjustable sleeve lengths and the ability to turn the two-piece jumpsuit into a one-piece, for a fashion twist and better insulation, too.
Customer Lifetime Value Requires a Unique Mix of Content for Every Stage
Why Ask Why: How Boston Private's Marketing Strategy Builds Trust Across Generations

Tommy Hilfiger now offers a "Tommy Adaptive" fashion line, featuring augmented versions of their current fashions to better serve disabled customers. This line offers the same ensembles Tommy fans love, but now with magnetic buttons and Velcro closures for consumers with limited motor function, as well as adjustable waists and hemlines perfect for consumers who either need a little extra room to conceal medical devices or feel too restricted by the normal fit of the clothes.
A key element of the success of these campaigns is that they aren't creating new fashions to pass off to disabled consumers. Instead, they're taking their current fashion lines and adjusting them to be accessible to everyone. By bringing current fashions to this audience instead of creating a marginalizing line of "disabled fashion," these brand campaigns are bringing true inclusivity to today's mainstream fashions.
Building Toys That Look like the Children Using Them
The Barbie brand has taken plenty of heat over the years for the body imagery it sells to kids, but Mattel has made huge strides in recent years to diversify Barbie's look and encourage the idea that real bodies can take many different forms. In their new "Barbie Fashionistas" line, the company is, for the first time, offering versions of Barbie in a wheelchair and with a prosthetic leg.
According to Bustle, a wheelchair-bound Barbie has long been sought out by Barbie fans. The Barbie Fashionistas line finally makes this dream come true. And better yet, the visibility and accessibility of Barbies with disabilities isn't limited to disabled kids alone: Any child can purchase, be gifted, and/or play with a Barbie with a physical limitation.
This is a big step toward inclusivity because, similar to the Tommy Hilfiger fashion line, Barbie's disabled toys aren't being marketed specifically to disabled children. Instead, these new depictions of the body are available as part of the larger Barbie universe. This representation of diverse dolls helps show both disabled and able-bodied children that bodies of all kinds can fully participate in the world.
Enabling a Truly Universal Experience
One of the most striking ads shown during the Super Bowl was one from Microsoft showing how its new adaptive controller can help disabled kids and adults participate fully in some of the world's most popular video games. This ad, which prompted more than a few tears from its audience—and was widely hailed as one of the best ads to ever play on Super Bowl Sunday—is a shining example of not just disabled representation, but true inclusivity.
While the ad does feature the capabilities of the adaptive controller as an innovative, enabling device that gives mobility-limited users the ability to participate in certain video games for the very first time; the ad itself wasn't advertising the controller's sticker price or trying to trigger a windfall of sales for their hardware. Rather, as Forbes pointed out, the ad's goal was to position Microsoft as a brand committed to serving everyone, regardless of their limitations, and to create experiences that could be universal to all humans.
The ad succeeds in demonstrating the limitless potential of new technologies while also cementing inclusivity as a cornerstone of Microsoft's brand mission. In this campaign, disabled consumers aren't just a group of people who may want to buy the controller, they're a community that makes the world a better place when they're fully able to participate in it.
by Jonathan Crowl
Jonathan Crowl specializes in digital marketing and content creation for both B2B and B2C brands, with an emphasis on startups and technology. His past and current clients include B2B brands IBM, LinkedIn, Mad Mobile, Oktopost, BrightSpot, and Waze, as well as B2C brands Porsche, Epson, and PayPal. He lives in Minneapolis.
SEE MORE FROM JONATHAN
Disabled representation in advertising and marketing still has a ways to go, and it's important that brands don't diminish this consumer group by only considering them in terms of their gross disposable income. Today's consumers want to spend their money on brands that are embracing campaigns of social good and practicing social responsibility. Creating inclusive marketing campaigns that include disabled audiences brings us one step closer to fulfilling those larger goals.
Featured image attribution: Josh Appel